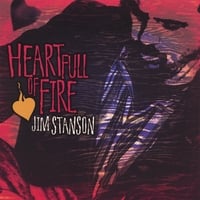 So I'm still recovering from SXSW. I got into Chicago late last night. My SXSW was kind of an anti-SXSW experience. I didn't see any of the hyped or buzzed bands. Not Duffy, or She and Him, or any band with the word "Fuck" in the name (that one was difficult – they were everywhere). I didn't make it to any blogger parties (although I did peak in to the Stereogum/Paste/NPR event to see Emmy the Great play with Lightspeed Champion).
What I did do/see was wonderful. The list of artists includes Danny Schmidt, Sam Baker, Walt Wilkins, Anna Egge, Caroline Herring, The Pines, Gurf Morlix, Carrie Elkin, The Theater Fire, Chuck Prophet, Nels Andrews, AJ Schultz and David Dondero. Many of these I saw on Saturday at a marathon house concert outside of town. I have photo's that I may upload today or tomorrow.
But today's a new day and a new day means a new artist to write (and get excited) about. I came across Jim Stanson's new record on a European Americana chart. His new record Heart Full of Fire was the only one on the list by a self-released artist. I think you know I have a fondness for rock `n roll. Simple, straightforward rock shaped by decades of exposure to The Rolling Stones, Bruce Springsteen, Tom Petty and The Faces. And that's what you get with Jim.
You'll hear all of those influences on the title track. Purchase Jim Stanson's new record here. The new record also features the above mentioned Gurf Morlix and Austinite "Scrappy" Jud Newcomb.