Here's a record that I'm astounded didn't do better with the NPR set. The songs are clever and the musical arrangements a step above your ordinary singer songwriter fare.
——-
I was so enamored by the first song I heard off of The Brendan Hines new record that it's no surprise that the whole thing is right up my alley. "Miss New York" was the clever song that stuck out at first (here). As an avowed East Coaster stuck in the Midwest I can relate to the nostalgia that one feels for a hometown.
The new record from The Brendan Hines is called Good For You Know Who. The songs on the record deal with subjects as diverse as drinking yourself to death, suicide, more death and drinking, and selfish behavior of all sorts. Sounds a bit dreary, I know, but musically the songs are fairly jaunty filled with horns, toy instruments, piano and guitar and they mostly come with a pretty big slab of sarcasm on the side. You can order this now via Cd Baby here.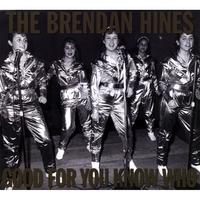 Older songs:
Tags: Brendan Hines